(Reading time: 1 - 2 minutes)
Recentemente mi sono trovato nella necessità di esportare un ebook regolarmente acquistato su un dipostivo che non è un vero e proprio book reader, ma un semplice smartphone con un una app per la lettura installata.
Dopo l'acquisto ho seguito tutte le istruzioni per l'esportazione, nonostante sul sito web dell'editore abbiano in tutti i modi cercato di convincermi della assoluta inutilità di questa operazione, ho quindi scaricato il mio file acsm (Adobe Digital Edition) , l'ho decriptato con la licenza con cui l'avevo acquistato ed ho copiato il file sul mio smartphone. Fino a qui tutto bene se non fosse che il reader, come ogni altro reader che non sia ADE, mi comunica l'assoluta impossibilità di leggere il file perchè protetto da DRM.
(Reading time: 2 - 3 minutes)
In questo semplice tutorial faccio riferimento ad una procedura pubblicata direttamente dalla casa produttrice (
https://docs.microsoft.com/en-us/deployoffice/vlactivation/plan-volume-activation-of-office
), da quanto si legge la procedura non permette di attivare la licensa, ma permette di utilizzare il programma senza limitazioni di tempo.
1. Download ed installazione
Il pimo passo è quello di procurarsi il software da utilizzare per l'installazione direttamente dal sito del produttore
2. Preparazionde del Key Management Service (KMS)
Sempre facendo riferimento alla documentazione di Microsoft va creato un file di testo che imposti il servizio e pemetta al software di interrogarlo periodicamente
@echo off title Activate Microsoft Office 2019 ALL versions for FREE!&cls&echo ============================================================================&echo #Project: Activating Microsoft software products for FREE without software&echo ============================================================================&echo.&echo #Supported products:&echo - Microsoft Office Standard 2019&echo - Microsoft Office Professional Plus 2019&echo.&echo.&(if exist "%ProgramFiles%\Microsoft Office\Office16\ospp.vbs" cd /d "%ProgramFiles%\Microsoft Office\Office16")&(if exist "%ProgramFiles(x86)%\Microsoft Office\Office16\ospp.vbs" cd /d "%ProgramFiles(x86)%\Microsoft Office\Office16")&(for /f %%x in ('dir /b ..\root\Licenses16\ProPlus2019VL*.xrm-ms') do cscript ospp.vbs /inslic:"..\root\Licenses16\%%x" >nul)&(for /f %%x in ('dir /b ..\root\Licenses16\ProPlus2019VL*.xrm-ms') do cscript ospp.vbs /inslic:"..\root\Licenses16\%%x" >nul)&echo.&echo ============================================================================&echo Activating your Office...&cscript //nologo ospp.vbs /unpkey:6MWKP >nul&cscript //nologo ospp.vbs /inpkey:NMMKJ-6RK4F-KMJVX-8D9MJ-6MWKP >nul&set i=1 :server if %i%==1 set KMS_Sev=kms7.MSGuides.com if %i%==2 set KMS_Sev=kms8.MSGuides.com if %i%==3 set KMS_Sev=kms9.MSGuides.com if %i%==4 goto notsupported cscript //nologo ospp.vbs /sethst:%KMS_Sev% >nul&echo ============================================================================&echo.&echo. cscript //nologo ospp.vbs /act | find /i "successful" && (echo.&echo ============================================================================&echo.&echo #My official blog: MSGuides.com&echo.&echo #How it works: bit.ly/kms-server&echo.&echo #Please feel free to contact me at
[email protected]
if you have any questions or concerns.&echo.&echo #Please consider supporting this project: donate.msguides.com&echo #Your support is helping me keep my servers running everyday!&echo.&echo ============================================================================&choice /n /c YN /m "Would you like to visit my blog [Y,N]?" & if errorlevel 2 exit) || (echo The connection to my KMS server failed! Trying to connect to another one... & echo Please wait... & echo. & echo. & set /a i+=1 & goto server) explorer "http://MSGuides.com"&goto halt :notsupported echo.&echo ============================================================================&echo Sorry! Your version is not supported.&echo Please try installing the latest version here: bit.ly/aiomsp :halt pause >nul
il file contente le righe sopra va salvato con estensione ".bat" ad esempio "1click.bat".
A questo punto va eseguito il file appena crato come amministratore

N.B. C'è la seria possibilità che windows defender dia un errore "HackTool:BAT/AutoKMS" in questo caso basta disabilitare windows defender e ripetere la procedura, fatto questo si può riattivare Windows defender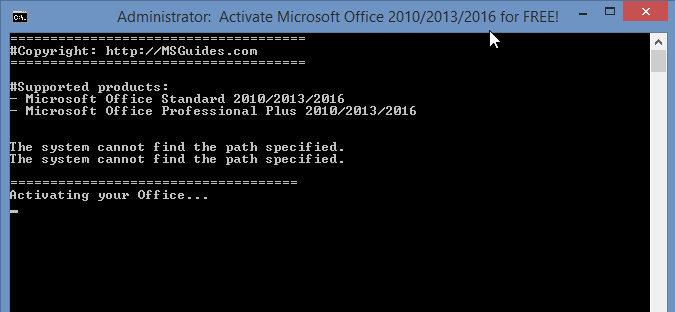 se tutto è stato fatto correttamente si vedrà una schermata come questa
Non ci resta che utilizzare il nostro Office

Qui alcuni codici e numeri seriali forniti da Microsoft
(Reading time: 1 - 2 minutes)
Uno dei problemi più noti a chi utilizza i dispositivi Android è il fatto che la memoria dichiarata dal produttore raramente corrisponde alla memoria libera effettivamente utilizzabile. Negli Smartphone che hanno lo slot per la memoria esterna, quasi tutti a dire il vero, è possibile trasferire foto, video e parte delle applicazioni nella memoria esterna. [Parte delle applicazioni nel senso che i dati principali dell'app restano sulla memoria interna mentre i dati accessori vengono scritti nella memoria esterna]
Dalla versione 6 di Android (Marshmellow) è stata introdotta la funzionalità adoptable storage, che permette di configurare una parte della scheda SD come se fosse memoria interna, in questo modo tutte le applicazioni che potevano essere spostate in parte nella memoria esterna vengono installate interamente sulla scheda.
(Reading time: 1 - 2 minutes)
Da circa sei mesi il popolarissimo social network Instagram ha ampliato l'offerta con Stories.
Le stories sulla falsa riga di quello che era il main aim di Snapchat (di cui qualcuno sostiene siano una brutta copia), consentono di caricare foto e brevi filmati della durata di non più di 90 secondi scattati direttamente dalla fotocamera dell'applicazione oppure caricare dalla propria galleria immagini o video scattati nelle ultime 24 ore. Se il profilo dell'utente è pubblico le stories possono essere visualizzate da chiumque per un periodo di 24 ore.
In teoria sarebbe possibile salvare soltanto le proprie stories, ma continuando in questo articolo scopriremo che esistono vari metodi per poter scaricare anche quelle degli altri.
Anche se è un'applicazione per mobile, tutti i contenuti sono sono stipati su un qualche tipo di server, l'applicazione ha quindi necessità di conoscere "l'indirizzo" a cui trovare questi contenuti, scoperto l'indirizzo è possibile anche salvarli.
Fortunatamente al mondo esistono tanti bravi programmatori e smanettoni che ci semplifica le cose creando applicazioni che fanno il lavoro sporco al posto nostro.
(Reading time: 1 minute)
Ognuno di noi ha all'interno della sua galleria foto, immagini o video imbarazzanti che non vorrebbe mai far vedere in pubblico.
Esistono vari applicazioni che permettono di nascondere questa parte della nostra collezione multimediale e possono essere scaricate dopo una semplice ricerca sull'app store, ma esiste anche un metodo semplice che permette di non occupare risorse importanti, come memoria o tempo di processore, lasciandole libere per fare altro.
Subcategories